Seguimos con el tiempo loco pero noooo, no hay cambio climático… un día estamos a 31º y al siguiente a 18º porque el tiempo el caprichoso… en fin, no sigo que me enciendo y hoy es viernes y
hoy toca "sorpresa"
jijiji Nuevo look + international giveaway
Lo del tiempo lo decía porque ayer por la tarde me iba a conocer otros de los centros Now You de Valencia, (ya te contaré más la semana que viene) yo toda mona con mi manguita corta, mi precioso chaleco vaquero de Chicnova, con perlas y mis pantalones nuevos (pese a lo rotos que están) y conforme voy a salir, chaparrón y un frío considerable, así que ale, cambio y de manga larga otra vez, eso sí, de risas y a pasármelo bien.


Top: Zara (más looks AQUI)
Chaleco: Chicnova
Pantalón: H&M
Zapatos: H&M (más looks AQUI)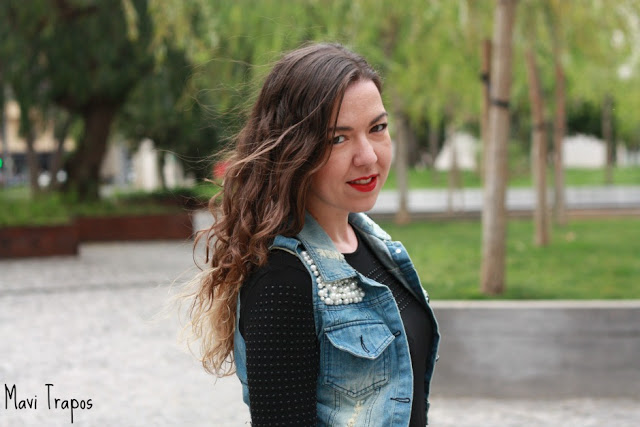 Y para empezar el fin de semana aún mejor ¿qué te parece un sorteo internacional? Gana un cupón de 30$ para la página Chicnova.
Para participar es muy fácil:
* Ser seguidora del blog Trapos AQUI
* Darle el
me gusta en facebook
de la página de
Chicnova
AQUI
* Estar registrado en la pagina web de Chicnova AQUI
* Rellenar el cuestionario con tu nombre de seguidora en el blog, en facebook y tu e·mail de registro en la web.
* Dejar un comentario con un enlace de tu prenda favorita de Chicnova y avisándome si lo compartes en tu blog, twitter o facebook ya que tendrás una participación extra.
* El sorteo empieza hoy y finalizará el domingo día 26 mayo. Se realizará por la web Sortea2.
If you would like to parcipate:
* Follow Trapos blog HERE
* Become Chicnova fan on facebook HERE
* Write on the form your follower name, facebook name and your register e·mail.
* Leave a coment with the link of your favourite item on Chicnova and please, tell me if you share on you blog, twitter or facebook, you will have an extra point.
* This giveaway will finish on May 26th.
¡¡Un besazo y feliz fin de semana!!
Pd. Aún puedes participar en el
SORTEO
de un tratamiento completo de depilación láser en piernas enteras, axilas e ingles en
Clínica de Raíz
. Apúntate
AUI
.